Nagoya University and North Carolina State University have been in the process of expanding their partnership since the beginning of this year, with renewed commitments to a variety of programs and initiatives such as new dual-degree programs and more funding for joint faculty research. In February, Nagoya University also opened its first North American satellite campus to provide greater support for their faculty members' and students' activities in the region, in cooperation with the Technology Partnership of Nagoya University, Inc (NU Tech) which works with U.S. industry and academia partners to create collaborative opportunities for NU faculty and students.
While institutional efforts to create such "strategic partnerships" are vital, the value of the partnership is contingent upon the faculty members and students who utilize it. Several faculty members of the Graduate School of Education and Human Development understand that, and are ready to make use of the partnership. Under the leadership of Dr. Jiro Takai, Professor of Social Psychology, and Dr. Norihito Taniguchi, Lecturer of International Education, it has recently implemented a three-step plan for cementing ties with the Department of Education at North Carolina State University. While the newly opened campus in Raleigh and more funding from Nagoya have opened doors for more collaboration with the NCSU community, the leading faculty members understand that jumping into something without getting to know each other does not result in a meaningful partnership. "It is important and necessary for faculty members from both universities to learn about each other's research, even if it takes a long time," says Dr. Taniguchi. "First, we need to build a relationship based on mutual trust. We will then move forward with more than just an exchange of collaboration ideas and learning about each other. Our goal in a few years is to get to the point where various collaborative programs are constantly up and running." 
The "three-step plan" is already in motion. In July of 2023, a joint research seminar was held at Nagoya University, featuring research presentations by three experts in higher education from the Japanese and American universities. In October, graduate students from the universities also exchanged research ideas in front of 17 participants. On November 1st, the Nagoya University Graduate School of Education and Human Development and NCSU Department of Education co-hosted another seminar called the "Research Café," featuring five faculty members from Nagoya and North Carolina introducing their ongoing research projects. The online seminar focused on the topic of supporting teacher learning in the U.S. and Japan and engaged 27 participants in the lively discussion despite the time difference between the two countries.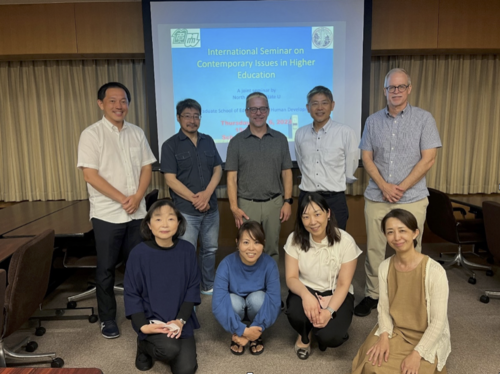 Dr. Norihito Taniguchi, Lecturer (top left) and Dr. Jiro Takai, the Dean of the Graduate School of Education and Human Development (second from top left) hosted the joint research seminar in July 2023.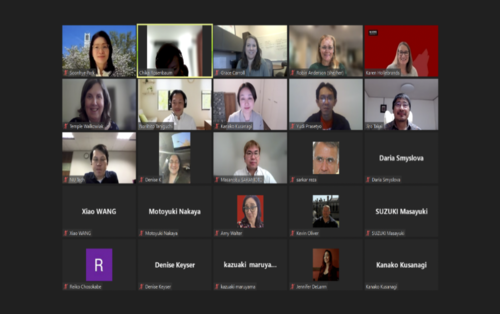 The screenshot of a scene from "Research Café" held on November 1st at 9 am eastern time and 11 pm Japan time.
Dr. Taniguchi feels that these events are slowly but surely attracting more people from both universities. "We got more ideas for events. We will continue sharing research activities and providing opportunities for students to interact. This academic year is going to be all about these events--for building the partnership between two academic institutions. In the next year, we will improve the partnership, and we will solidify it in a few years. I believe these gradual steps and efforts will ultimately create a valuable partnership." Dr. Takai, the Dean of the Education Program, also previously expressed that he is "excited to have so many joint activities with NC State," and plans to "expand on them further." 
In addition, Dr. Taniguchi emphasized that the key to develop the NU-NCSU partnership through the three-step plan is the continuous support from and work done by other faculty members and staff of the Graduate School of Education and Human Development as well as NU Tech based in Raleigh. "I have been able to coordinate these events only because of other faculty members who are willing to participate." He also expressed his special appreciation for the work done by Dr. Takai as the Dean and Mr. Tomohisa Koyama, Executive Director of NU Tech, who made it possible for him to travel to Raleigh this summer to visit the Department of Education at NCSU and speak from his heart about his plan for strengthening the partnership. "Meeting the U.S. faculty members in person once was worth way more than talking to them online multiple times. I am very grateful for Dr. Takai and Mr. Koyama who made it happen," says Dr. Taniguchi.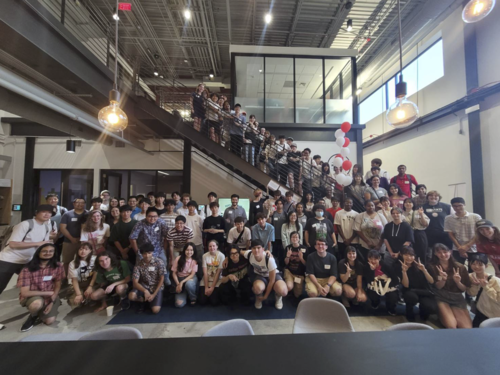 A scene from the "Ryugaku Academy" 2023 Summer Study Abroad Program at North Carolina State University, which was developed and led by Dr. Nami Iwaki, Professor of International Programs at Nagoya University and coordinated by NU Tech under the leadership of Executive Director, Mr. Tomohisa Koyama.
By Chika Yamamoto Rosenbaum, Nagoya University Global Multi Campus Associate Professor