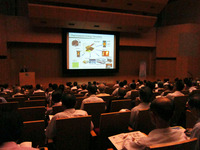 The 2013 Techno Fair of Nagoya University organized by the engineering department made its spectacular opening on the 6th of September. The event was held in the Toyoda Auditorium, where both new technological ideas and improvisations to existing technologies are showcased and exhibited. Ever since its first opening in year 1999, the Techno Fair has strived to facilitate mutual cooperation between industries and the university, aiming to improve the development of both new and existing technologies.
I was fortunate enough to have the opportunity of attending this annual event. Upon arrival, the reception area was already flooded with enthusiastic visitors before the event commenced. Visitors that made their way to the exhibition were not just limited to both corporate and research workers, but consist of people from all walks of life, ranging from senior citizens to high school students. It was great to see that both the young and old share similar interest and are pacing up with the ever-changing world shaped by more a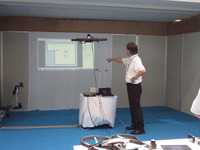 nd more new technologies. Goodie bags containing pamphlets and booklets on the exhibition information were distributed to all visitors, and refreshments were also made available.
There were various exhibitions of intriguing scientific research and their results, including talks on topics regarding "Material capable of converting heat into electrical energy" and "Nanocarbon's development and its contribution to engineering", which were both delivered by notable professors of their respective fields. Research rooms that are generally not opened to the public were opened for visitors as well. Furthermore, consultation sessions on technological developments in research were set up as well. Pamphlets were made available and distributed during the event along with the consultation sessions to better facilitate the event.
One of the most eye-catching exhibition is undoubtedly the automated flying device attached to a vehicle. Navigation is first made possible through an interactive map, where the vehicle detects the user's upper body structure, and by sensing the user's body movements, it then directs the vehicle to the designated location. The automated flying device which is capable of sensing existing obstacles then leads the vehicle to maneuver through obstacles automatically. With the development of this technology, it is not difficult to extrapolate how much such technology can potentially benefit humankind by revolutionizing industries across different fields of study.
The development of technology is crucial to the development of humanity as a whole. As a law student with a background in science, my education in Nagoya University has taught me the importance of interdisciplinary knowledge and the importance of not limiting myself to one specific field. As important as technological breakthroughs are, one must understand the social mechanisms that govern the processes leading up to such discoveries and those that proceed from it to ensure fair and equitable rights are allocated to those that have committed themselves to such great discoveries. Novel inventions and breakthroughs can be further brought forward to benefit the society better with the utilization of facilitative processes. Along with the ever-increasing rate of scientific breakthroughs, social mechanisms such as the demand for smoother technological transfer processes, fair royalty payments and more must too, adapt to the different demands shaped by the technological breakthroughs, and vice versa. It is crucial to provide sufficient incentives for the inventors and researchers for their innovative spirit, promoting a good cause for the society and inspire greater inventions in the future. Therefore, it was certainly a wonderful delight to have seen booths promoting ideas and raising awareness of the importance of protecting intellectual works.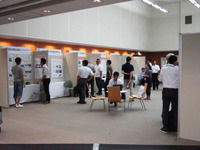 Nagoya University prides itself in providing top quality education for all its students, and has succinctly proven its capabilities of fostering and inspiring great minds through its remarkable record of funding innovative ideas and sustaining vital researches. The Techno Fair 2013 has certainly proven so, as driven by the initiative of each participant. In my opinion, the event has succeeded amply in attaining its goals, and I certainly look forward to participating similar events in the near future!
(reported by Kwong Qi Jun )