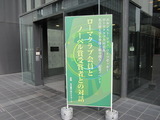 An event was held on February 6, 2016, to commemorate the conferment of Nagoya University Honorary Doctorate on Prof. Ernst Ulrich von Weizsäcker, Co-President of the Club of Rome, at the E & S Hall in Nagoya University. This event -- jointly hosted by Nagoya University and the Engineering Academy of Japan, and supported by the Chunichi Shimbun Co. -- consisted of three sessions: conferment of the Honorary Doctorate on Prof. Weizsäcker, his commemorative lecture, and a panel discussion. During the event, there was also a live performance by the University's orchestra members.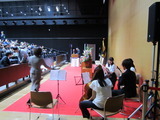 First, I will introduce Prof. Weizsäcker based on a material distributed at the event. He is the Co-President of the Club of Rome, a private think tank headquartered in Switzerland, with its members mainly consisting of distinguished academic experts. It was founded in Rome in 1968 to address environmental and other various global issues, hence the name.  
Prof. Weizsäcker was born in 1939 and is a nephew of Richard Karl Freiherr von Weizsäcker, a former German president. He started his career in 1972 as professor of Essen University (Germany), and subsequently served as Founding President of the University of Kassel, Director of the UN Centre for Science and Technology for Development, Director of the Institute for European Environmental Policy, and Co-Chair of the International Resource Panel of the UN Environment Programme (UNEP). He is also known for his role as advisor to Germany's environment minister when the current German Chancellor Angela Merkel was in the post. After that, as Chair of the Environment Committee of the Federal Diet of Germany, he contributed to establishing the fundamentals of environmental policies of Germany, which has become an environmentally leading country. He was awarded the German Federal High Cross of Merit and many others. He had a great impact on global environmental policies both at home and abroad, accomplishing significant achievements in conserving nature and improving people's living environment.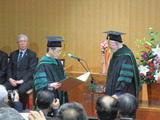 He is one of the world's leading ecologists and has also made great contributions to Nagoya University as a visiting professor of its Graduate School of Environmental Studies and as a member of the international third-party evaluation committee of its Global COE Program, "From Earth System Science to Basic and Clinical Environmental Studies." These contributions led to his conferment of the honorary doctorate. He was presented the diploma by Nagoya University President Seiichi Matsuo, and they took a commemorative picture together.
Subsequently, in the lecture, Prof. Weizsäcker talked about the effects of the invention of LEDs, energy issues, and the sustainability of global environment. He remarked that if the current economic development continues, natural resources will run out, and that it is thus necessary for us to change our lifestyles and create a recycling-oriented society, sustainable investing activities, new business styles, and politics and policies to implement them.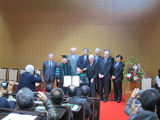 He also pointed out Japan's energy-saving efforts, saying "Since Japan imports energy, its price is high. So, in an effort to reduce energy consumption, Japan continued to develop energy-efficient appliances and other products. As a result, Japan achieved world-class energy efficiency." He added that in order to promote energy-saving efforts throughout the world, it is important to raise its price and actively build an energy-efficient society, but because higher energy prices will have a great impact on people's lives, consideration towards industry and developing countries is particularly important.
After the lecture, a panel discussion was held. It was attended by Prof. Weizsäcker and other panelists: Nagoya University Distinguished Prof. Isamu Akasaki and Institute of Materials and Systems for Sustainability Prof. Hiroshi Amano (both are the 2014 Nobel laureates in physics), Mitsubishi Research Institute Chairman Hiroshi Komiyama, Nagoya University Graduate School of Environmental Studies Prof. Yoshitsugu Hayashi, and Chunichi Shimbun Editorial Writer Ayumi Iio. Under the theme of "Wisdom and Skills for Sustainable Future," they discussed how to take action to build a sustainable future, including topics such as energy and natural resources, or the aging of society.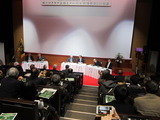 Prof. Weizsäcker earnestly listened to other panelists' opinions and said that amid the situation where humans are facing many problems, it is important for us to make continuous efforts to create a livable global environment.
Prof. Akasaki noted that because Japan lacks natural resources, its main resource is intellectual power, and thus the academic community plays a significant role. He also said, "LEDs are attracting attention only for their illuminating functions, but they are also expected to play active roles in other various fields, such as sterilization in the medical field, and the support of cultivation in vegetable factories. So, I hope to improve LEDs further." He also mentioned future prospects of LEDs that will further contribute to energy issues.
Prof. Amano remarked on the importance of thinking with a broad perspective, saying, "Japan's GDP is the third largest in the world, but its productivity per capita is low. Also, given the fact that CO2 emissions per person in Japan are greater than China, innovation will be needed in Japan's society. Also, recently, conflicts have become an issue, and I think poverty is one of the causes. So, we need to consider innovation not only in the domestic level but also on a global scale."
Prof. Komiyama, one of the full members of the Club of Rome, mentioned that Japan's energy efficiency is the best in the world, and spoke of motivations for research, saying, "Writing papers alone cannot gain social recognition. We must develop influential products. I would like to continue to create products with high energy efficiency, a good example of which is LEDs."
Nagoya University has a number of schools and graduate schools at which students can study and conduct research about the environment. The Graduate School of Environmental Studies covers environmental issues in general. In addition, graduate students can study global climate change, forest management, global warming, and other various environmental issues at the Graduate Schools of Bio-agricultural Sciences, Science, Engineering, and International Development. Although the University does not have a School of Environmental Studies, undergraduates may take environment-related classes at the Schools of Agricultural Sciences, Science, or Engineering.
If you have an interest in studying environmental issues at Nagoya University, visit its website and read the introduction of each school and graduate school you are interested in. It may help you carve a new path in life.
Reported by Takahiro Ogawa (Japan),
Graduate School of Bio-agricultural Sciences
(Modified and Translated by the Public Relations Division, Nagoya University)