We are deeply saddened to hear of the passing of Dr. Takao Kondo.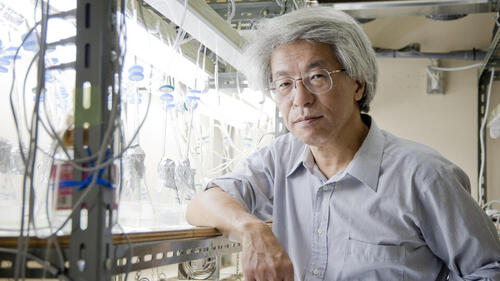 Dr. Kondo was a professor in the School of Science and the Graduate School of Science at Nagoya University, where he served as a mentor to many students and researchers alike. He was a pioneer in circadian clock research, and his analysis of cyanobacteria, starting with the development of an experimental method using bioluminescence, was revolutionary and is highly regarded worldwide as a landmark piece of Japanese research. Using this method in vitro, he discovered the clock gene and found that the clock protein produced by the gene generates a stable 24-hour oscillation, which overturned the conventional wisdom on circadian clocks.
His research has had a great impact on our view of materials and life, including time measurement and information processing by proteins, and he has received numerous awards, including the Medal of Honor with Purple Ribbon in 2011, the Japan Academy Prize in 2014, and the Person of Cultural Merit Award in 2019.
He contributed to the development of our university by serving as the Dean of the Institute of Advanced Research and Graduate School of Science, and his commitment to his research made him a role model for students and researchers both during his active career and after he became a Distinguished Professor. In 2021, he spoke at the Nagoya University Lectures, the most important academic lectures at the university.
We would like to express our sincere gratitude to Dr. Kondo for remarkable achievements and contributions to our university. May he rest in peace.
Naoshi Sugiyama
President, Nagoya University