Dr. Toshihide Maskawa, University Professor of Nagoya University, passed away on July 23, 2021. The following is a message of condolence and remembrance from Seiichi Matsuo, President of Nagoya University and Chancellor of the Tokai National Higher Education and Research System:
We express our deepest, heartfelt condolences upon hearing the sad news that Dr. Toshihide Maskawa has passed away.
Dr. Maskawa studied particle physics under Dr. Shoichi Sakata at both the School and the Graduate School of Science, Nagoya University. Together with his colleague Dr. Makoto Kobayashi, he worked on explaining the origin of the violation of charge-parity symmetry (CP violation). This theory, called the Kobayashi-Maskawa theory, supported the foundation of current particle physics, leading to them being awarded the Nobel Prize in Physics in 2008.
In the Sakata Laboratory, Dr. Maskawa studied and researched in an atmosphere that allowed students and faculty members to stand as academic equals. Dr. Maskawa also embodied and retained this philosophy, which has become the cornerstone of the university's free and vibrant academic culture and its driving force for producing many outstanding research results.
Dr. Maskawa, with his candid and genuine personality, treated everyone as equals. After becoming a University Professor of Nagoya University, he has continued to support the university even in recent years, through his assuming a position as the first Director of the Kobayashi-Maskawa Institute for the Origin of Particles and the Universe (KMI), as well as giving lectures at our university's overseas alumni associations.
It is very sad to have to bid a final farewell to Dr. Maskawa, but our faculty and staff, students, and all other members of Nagoya University have and will continue to take lessons from him to heart and further devote ourselves to pursuing the truth.
July 29, 2021
Seiichi Matsuo
 Nagoya University President
An Introduction to University Professor Toshihide Maskawa:
The Website of the Kobayashi-Maskawa Institute for the Origin of Particles and the Universe (KMI):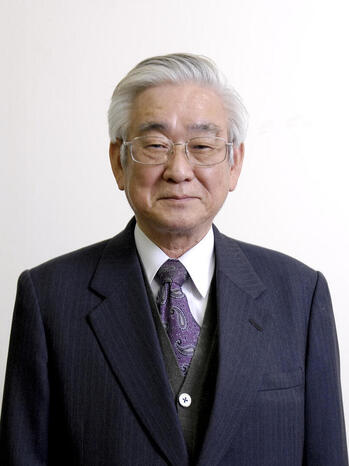 Dr. Toshihide Maskawa