Dr. Isamu Akasaki, University Professor of Nagoya University, passed away on April 1, 2021. The following is a message of condolence and remembrance from Seiichi Matsuo, President of Nagoya University and Chancellor of the Tokai National Higher Education and Research System:
We express our deepest, heartfelt condolences upon hearing the sad news that Dr. Isamu Akasaki has passed away.
Dr. Akasaki was an inventor of blue light-emitting diodes (LEDs), which was said to be impossible to develop, and this was done through his dauntless spirit as a researcher who "went alone into the wilderness." This invention has provided a new light for people around the world to see our world in it, leading to him being awarded the Nobel Prize in Physics in 2014.
Dr. Akasaki's research philosophy, "As long as you don't give up, there's a way," has been passed on to us in the form of the Nagoya University Akasaki Awards, which serve to encourage and propel the talent of our young and spirited researchers.
It is sad to bid a final farewell to Dr. Akasaki, but our faculty and staff, students, and all other members of Nagoya University will continue to take lessons from him to heart and further devote ourselves to solving the challenges we face in society.
April 2, 2021
Seiichi Matsuo
About Dr. Isamu Akasaki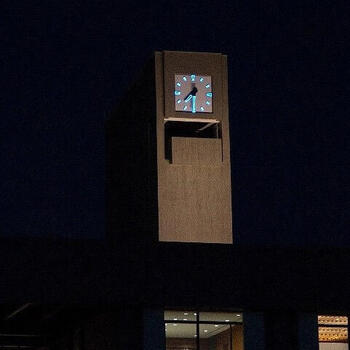 Toyoda Auditorium's clock tower using blue LEDs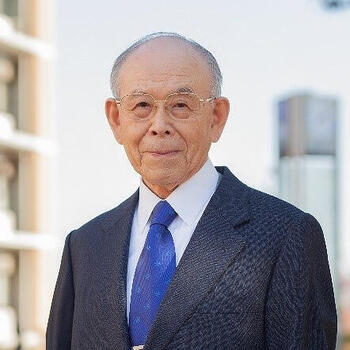 Dr. Isamu Akasaki