The new President of the University of the Philippines (UP), Atty. Angelo A. Jimenez, visited Nagoya University in Japan on February 21, 2023 to pay a courtesy call on the Nagoya University (NU) officials. The two universities renewed a Memorandum of Understanding (MOU), first signed in 2015, to host the NU Satellite Campus at UP.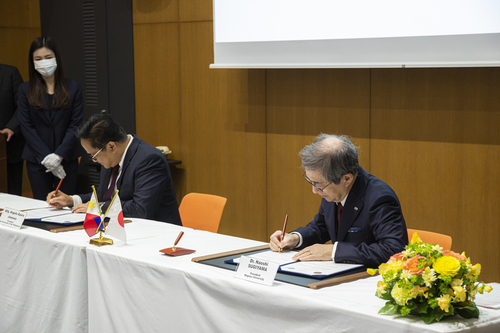 Academic cooperation and exchanges between UP and NU have existed for over four decades mainly in the fields of international development and bioagricultural sciences, while its possible expansion to the fields of law, environmental studies, engineering, and medicine is under intense discussion. Through this collaboration, both universities aim to share knowledge and expertise in these areas. Both institutions hope to create new research opportunities for faculty and student exchanges. 
President Jimenez, who officially took office as UP's 22nd president on February 10, received a warm welcome when he met with Tokai National Higher Education and Research System Chancellor Seiichi Matsuo; Nagoya University President Naoshi Sugiyama; and other faculty members.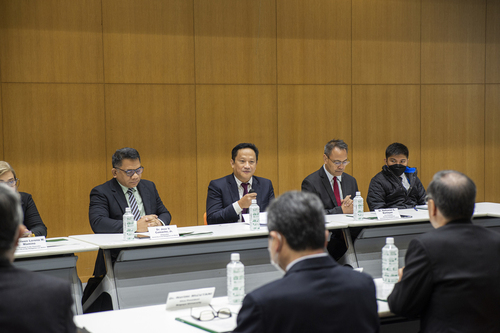 "I am very grateful to Nagoya University for providing this opportunity for Filipino nationals including government employees, and university faculty and researchers to pursue higher education, especially research doctoral degrees, " he said. "We know that NU is one of the leading universities in the world with centers of excellence. We want to give them the opportunity to learn from NU." 
But President Jimenez also emphasized the reciprocal nature of the relationship. "We are also trying to share what we have with NU so that we can create a truly mutually beneficial relationship," he said. "Of course, it cannot be a one-way street. We have many opportunities in the Philippines for NU,and we hope to push the frontiers of knowledge not only for the benefit of our two peoples, but for the world." 
NU has established six satellite campuses in Asia, including one at UP Los Baños. President Jimenez said that the visit to NU was not just about renewing the MOU, but also a signal that UP is serious about globalization. "NU has a campus in our school," President Jimenez said. "So, this visit is both an opportunity in terms of timing and part of our strategic initiative to renew that. And not only to renew it, but to expand it". 
Also attending the meeting from NU were Vice-President Norimi Mizutani; Senior Presidential Advisor Kazuhito Kawakita; Director of the Asian Satellite Campuses Institute Akira Yamauchi; and Designated Professor and Director of the Asian Satellite Campuses of the Philippines Edith Cedicol. 
NU was also pleased to welcome from the UP, Chancellor of UP Los Baños, Jose V. Camacho Jr.; Vice Chancellor of UP Los Baños, Nathaniel C. Bantayan; Assistant to the Chancellor, Dr. Eileen Lorena M. Mamino, and Mr. Clyde Maramba.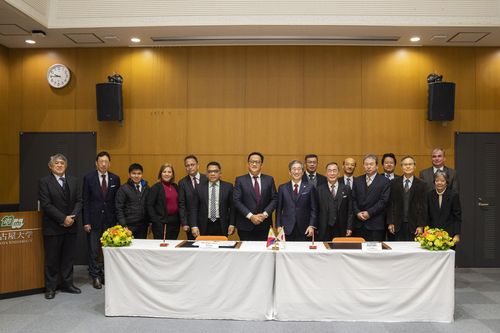 Read More:
Nagoya University Asian Satellite Campus Philippines
New UP President Inaugurated