Nagoya University's Higashiyama Campus has been certified as an Outstanding Eco Business Site by Nagoya City under its Eco Business Site Certification Program. In this program, Nagoya City certifies businesses that are actively engaged in environmentally conscious efforts as "Eco Business Sites" and supports their efforts. The University's Higashiyama Campus was first certified as an Outstanding Eco Business site in July 2012, and this certification was renewed in July 2015.
The certification has two levels, "Outstanding Eco Business Site" and "Eco Business Site," in accordance with the level of the businesses' efforts. To be certified as an Outstanding Eco Business Site, the business site needs to meet the following requirements:
1. It must be located in Nagoya City.
2. It must mark at least 15 points based on the "eco-friendly efforts and score" table.
3. The annual greenhouse gases emitted from the site must be lower than those in a base year (an arbitrary year after 2005). To renew the certification, the average annual emissions for three years between renewal times must be lower than the annual emissions in the base year.
4. The business must submit to Nagoya City an environmental activity report that compiles the results of eco-friendly efforts conducted at the site and publish it.
In response to the latest certification, Nagoya University will further promote its eco-conscious efforts and the creation of a more eco-friendly campus.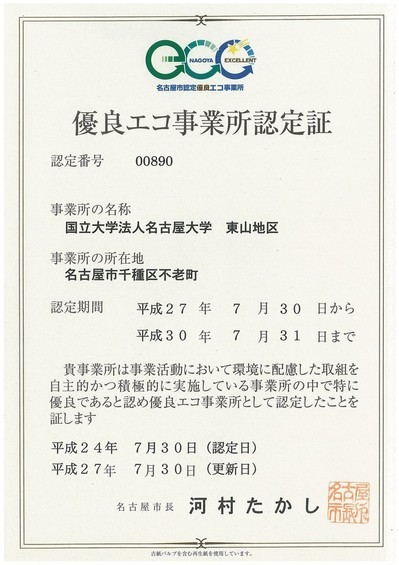 Outstanding Eco Business Site Certificate
Relevant Website: Nagoya City
(Available in Japanese)