Nagoya University has been selected as a Designated National University, in recognition of its abilities to develop world-leading education and research activities, by the Japanese Ministry of Education, Culture, Sports, Science and Technology (MEXT).
Designated National Universities are required to be on a par with overseas leading universities in an internationally competitive environment, and are expected to play a leading role in the reform of national universities by actively disseminating the concrete results of their influence and efforts that have contributed to the development of society and the economy.
MEXT's Website (in Japanese)
Comments from President Seiichi Matsuo
Nagoya University has just been selected as a Designated National University by the Japanese Ministry of Education, Culture, Sports, Science and Technology. In hopes of "becoming a world-leading research university," the concept described in the "Nagoya University as Designated National University" plan, we will make further efforts to take ourselves to new heights.
In our application for the Designated National University project, we presented our 10-year vision, laying out how we will make full use of our strengths in realizing the following: (1) establishing world-leading research centers, (2) training outstanding doctoral researchers to lead our knowledge-based society, (3) creating an international campus that attracts people from around the world and developing overseas outreach, and (4) creating innovation in collaboration with industry. To support these efforts, we will also aim to (5) reform the university's operational system through shared governance, (6) strengthen our financial base through a positive growth cycle of our resources, and (7) create a new multi-campus system for the future.
I am convinced that achieving our plan as a Designated National University will bring us up to the level of world-leading research university and make us into a driving force that can further contribute to society. Our faculty and staff will make a concerted effort to realize these goals. As we do, your further support would sincerely be appreciated.
March 20, 2018
Nagoya University President, Seiichi Matsuo
"Nagoya University as Designated National University" Plan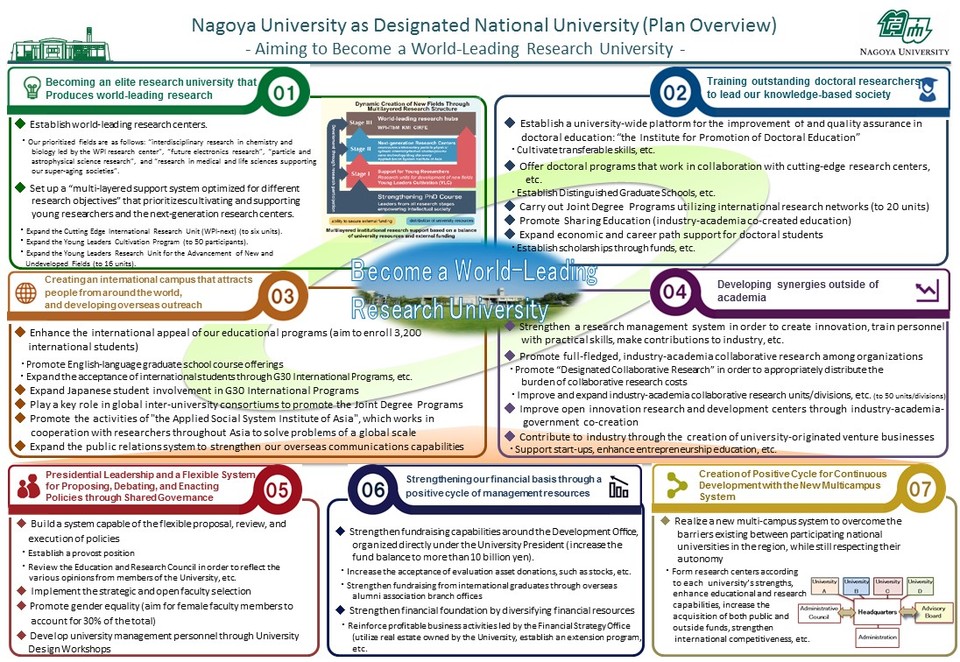 Executive Summary