On August 13, as part of an expedition in the Pacific Ocean, Professor Katsuyoshi Michibayashi of the Department of Earth and Planetary Sciences at the Graduate School of Environmental Sciences, Nagoya University, reached a depth of 9,801 meters at the bottom of the Izu-Ogasawara Trench, breaking a record that has remained unchanged since 1962.
The purpose of the expedition, part of the Ring of Fire Expedition 2022 aboard the ship DSSV Pressure Drop and its manned submersible Limiting Factor, was to study the geology and topology of the seabed in deep sea areas around Japan and the wildlife that lives in the area.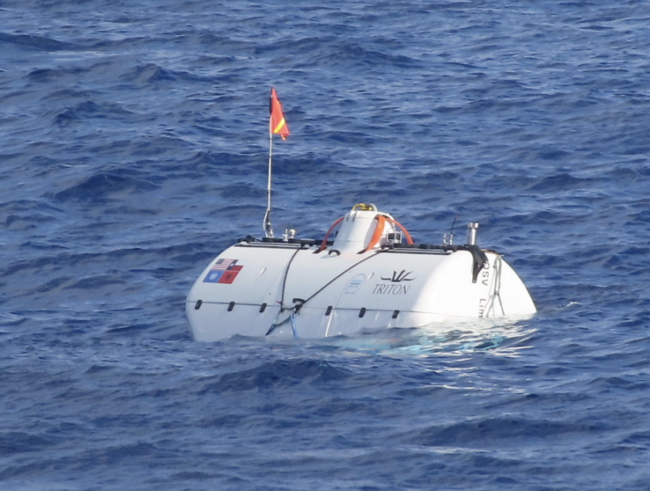 Manned submersible Limiting Factor
On August 13, the Limiting Factor, piloted by renowned ocean explorer and record holder Victor Vescovo, set off at 8AM and arrived at the bottom of the Izu-Ogasawara Trench at 11:51, where Professor Michibayashi, as well as carrying out his planned studies of the seabed and deep sea organisms, broke the Japanese record for the deepest ever traveled underwater at 9,801 meters. The previous record, held by Professor Tadayoshi Sasaki of the Tokyo University of Marine Science and Technology, was set in 1962 and stood for 60 years.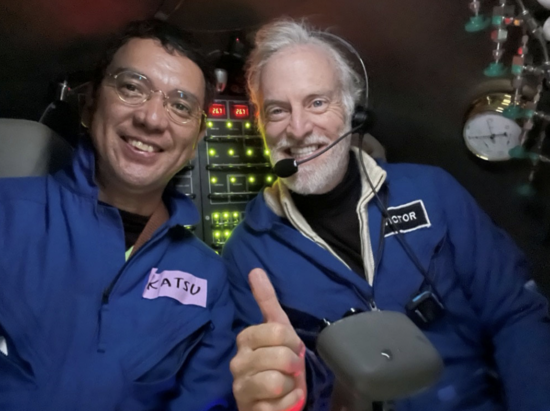 Prof. Katsuyoshi Michibayashi (left) and Mr. Victor Vescovo
Related website:
Department of Earth and Planetary Sciences at the Graduate School of Environmental Sciences
 Rock and Mineral laboratory (Ganko)