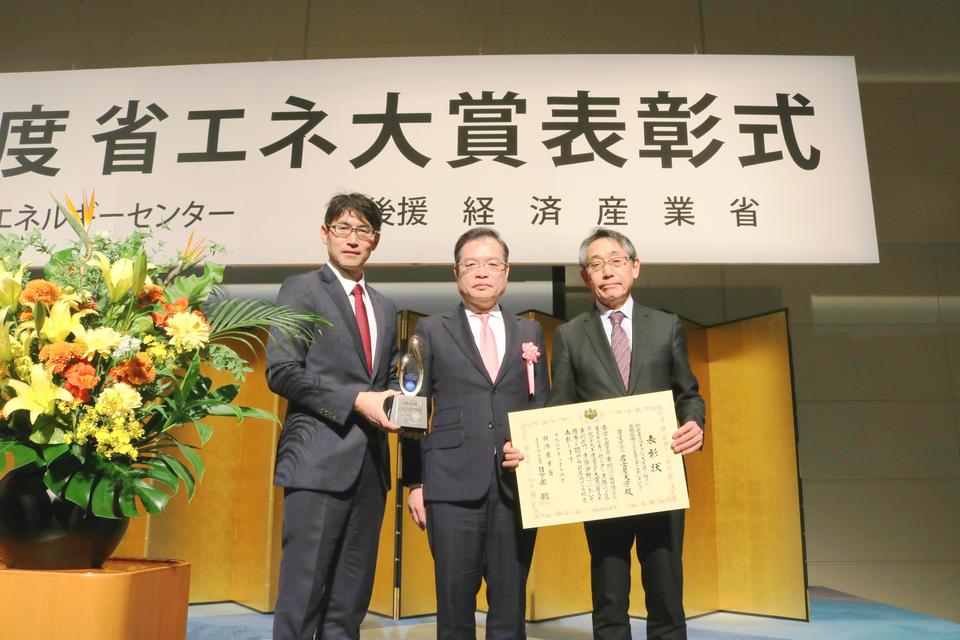 Energy conservation efforts are being made by all members of the Nagoya University community to "achieve a low-carbon, eco campus," a slogan described in our Campus Master Plan. In recognition of these efforts, we have been awarded the Prize of the Director-General of the Agency for Natural Resources and Energy (for business operations) as part of the FY2017 Energy Conservation Grand Prizes (energy-saving practices category) organized by the Energy Conservation Center of Japan.
Moving forward, we will continue to promote energy management to become a leading university in energy conservation.
Highly Evaluated Points of Nagoya University's Initiatives
As a comprehensive university, we have steadily accumulated energy-saving achievements by implementing comprehensive and sustainable  measures under energy management in cooperation with our faculty and staff members. We have developed standard specifications for facility management, as well as design requirement reports for each building, so as to manage energy conservation measures for new construction projects and large-scale renovations. In addition, we have renovated our facilities  through active involvement in the ESCO (Energy Service Company) project*, and introduced a mechanism of economically virtuous cycle by securing and using financial resources to promote energy conservation as a university version of ESCO. In this way, we have implemented systematic energy-saving initiatives in collaboration with our faculty and staff members, achieving significant results. The accumulated reduction of our energy consumption from fiscal year 2006 to 2015 was 57,194 kiloliters, and energy consumption university-wide  was reduced by more than 1 percent annually between 2009 and 2015.
* The ESCO project is a business model  under which ESCO businesses make renovations for energy conservation, ensuring the effective reduction of energy use, and then allocate costs saved by the reduction in utilities costs to all of their business expenses, including the renovation costs.  
 
Overview of Nagoya University's Application
Award-winning theme: Energy Management for Development of a Low-carbon Eco Campus by the Campus Management Team
Related Websites:
Energy Conservation Grand Prizes (Energy Conservation Center)
 
Nagoya University Campus Master Plan (in English)
 
Nagoya University in Harmony with the Environment