The Nagoya University Hospital (Director: Naoki Ishiguro) obtained accreditation from the Joint Commission International (JCI), a nonprofit international accrediting organization in health care, on February 23, 2019. The JCI was established in 1994 as the global division of the Joint Commission, a US-based health care accreditation body, with the aim of evaluating the quality of health care and the safety of patients on a global scale. The JCI has strict screening criteria and is known as the most challenging health care accreditation body in the world, which has approved the accreditation of 1,082 facilities worldwide. The Nagoya University Hospital has become the fourth accredited university hospital and also the first accredited national university hospital in Japan. The accreditation will be effective for three years, and will be renewed after re-screening and re-accreditation every three years.
On February 18 through 22, 2019, five surveyors visited the Nagoya University Hospital from abroad to conduct an on-the-spot investigation. They thoroughly examined 1,270 evaluation categories in 16 fields, such as "international patient safety goals," "assessment and care of patients," "prevention and control of infections," and "governance, leadership and direction."
By obtaining this accreditation, the Nagoya University Hospital is now recognized as Japan's first national university hospital that has met international standards for health care quality and patients' safety. Nevertheless, the Hospital will continue to make everyday efforts to improve them to offer even higher-level health care.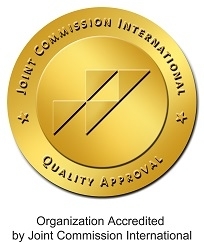 JCI accreditation mark
Nagoya University Hospital Website: