Nagoya University Formula Team FEM won the EV class of the 15th Student Formula Japan, held at the Ogasayama Sports Park in Shizuoka Prefecture, Japan, from September 5 to 9, 2017. The FEM team also took 4th place overall at the SFJ.
The SFJ, hosted by the Society of Automotive Engineers of Japan, Inc., is designed for students to compete against each other by testing their comprehensive manufacturing abilities through planning, designing, and building vehicles by themselves. The SFJ is held every summer, and leading up to the competition, participating university teams manufacture formula-style vehicles and compete as virtual companies. The competition consists not only of the Dynamic Event (to compete for vehicles' running performance) but also of the Static Event (to compete for manufacturing techniques, production methods, planning and sales), and evaluates the teams' comprehensive manufacturing abilities. This year, 93 teams participated in the competition.  
The SFJ is categorized into the ICV (gasoline vehicles) class and EV (electric vehicles) class. Until last year, the FEM team participated in the ICV class and won overall. However, the team was impressed by the strength of EVs competing for overall victories in competitions in Germany, the center of the motorsports world. Therefore, the team set up the EV project so that Nagoya University's team will be a pioneer of EVs in Japan's competitions and create EVs to win world competitions. Generally, EV class competitions require high safety and advanced technologies; therefore, it is said that it will take several years for EVs to pass the official vehicle inspection and finish the competition without any trouble. Against these odds, the team participated in this year's SFJ for the first time solo and won the Spirit of Excellence Award for the EV class, and took 4th place in the overall competition.
The team also received a number of special prizes given to teams with highly evaluated new technologies and environmental technologies, such as the Minister of Land, Infrastructure, Transport and Tourism Award, and the Governor of Shizuoka Prefecture Award. These achievements were widely taken up in the media.
The Nagoya University Formula Team FEM has received the following awards:
Presentation Award  1st prize
Design Award  2nd prize
Efficiency Award  2nd prize
Acceleration Award  3rd prize
CAE Award  3rd prize
Best Improvement Award  1st prize (Improvement from last year, when Nagoya University, jointly with Shizuoka Institute of Science and Technology, participated in the EV class competition)
Minister of Land, Infrastructure, Transport and Tourism Award 
Governor of Shizuoka Prefecture Award 
Mayor of Fukuroi City Award
JAMA Chairman Award
Spirit of Excellence Award for EV class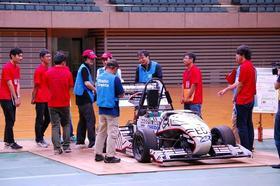 Final test is conducted for only the top three
teams at the design test.
This was the first time for an EV to advance
to the final test.
20 laps of endurance driving, this is the last
hurdle (allocating the highest marks) forcing
many of the teams to drop out
Team members were delighted about their
successful finish of the endurance driving
Our team leader showing great joy winning
the Spirit of Excellence Award for the EV class
Related Websites:
Nagoya University Formula Team FEM
Society of Automotive Engineers of Japan