Nagoya University concluded a basic agreement on June 13 (Tue), 2017 with the Institute of Physical and Chemical Research (President: Hiroshi Matsumoto; hereinafter "RIKEN") regarding the promotion of their partnership and cooperation.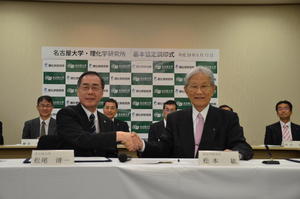 Under the agreement, Nagoya University and RIKEN will build a new framework for their partnership and cooperation in which both parties contribute their research capacities and environments, as well as their human resources, with the aim of exerting their combined strengths in a synergistic manner. In doing so, the two institutions are expected to play a crucial role in the advancement of academic scholarship, scientific technologies and the development of education in Japan.
1. Background and Overview
Presently, both parties are making efforts to strengthen their partnerships with research institutions both at home and abroad. At Nagoya University, action is being taken to spur the discovery of new research agendas and to find social applications for research achievements by systematically promoting university-wide partnership projects. Likewise, RIKEN has been establishing new partnership frameworks based on its Initiative for Scientific Excellence in order to shape itself into a hub for science and technology, so that it may produce world-class, top-level research achievements and innovation.
Under policies such as these, Nagoya University and RIKEN will begin anew their inter-institutional partnership. Nagoya University's Graduate School of Bioagricultural Sciences and Institute of Transformative Bio-Molecules have both collaborated separately with the RIKEN Center for Sustainable Resource Science in the past; however, these collaborations will now be integrated into a three-party partnership in a constructive manner, in order to pioneer and promote various combinations for collaborative fields, such as the combination of basic botanical science and crop thremmatology, or natural products chemistry and synthetic chemistry. Similarly, Nagoya University's newly established Future Value Creation Research Center of the Graduate School of Informatics, jointly with the RIKEN Center for Advanced Intelligence Project, have begun investigations into a completely new research project centered around the theme of "constructing fundamental technologies for a manufacturing revolution through manufacturing informatics," and they will be working toward a more concrete realization of the project. Nagoya University is also considering the establishment of collaborative spaces on campus for each collaborative field, planned for use in facilitating efficient advancement of collaborative research and personnel exchanges, as well as the expansion of collaborative fields.
In light of the above, the agreement between the two institutions will be very comprehensive, aiming for cooperation in all fields in which such collaboration is possible. With past cooperation accumulated across wide-ranging fields serving as a base, the agreement will develop not merely the new collaborative agenda but a greater combined effect in high-level, institution-wide cooperation and partnership between the two institutions.
2. Contents of the Agreement
In the spirit of a mutually beneficial arrangement, this agreement aims to contribute to the promotion of academic scholarship and scientific technologies in Japan by effectively implementing concrete partnership and cooperation efforts in research, education and human resources development in all fields where both institutions can cooperate with one another. To achieve these objectives, the two institutions will implement the following:
(1) Joint research and other such research collaboration
(2) Research and personnel exchanges
(3) Support for education and human resources development
(4) Sharing of research facilities and equipment
(5) Other aspects recognized by both institutions to be necessary to achieve the objectives of this agreement