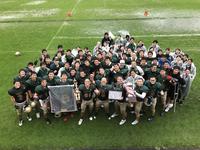 Nagoya University's American football team, Grampus, has won their final game of the Fall 2017 Tokai Collegiate American Football League on Sunday, October 29, at the Nagoya City Minato Soccer Stadium, becoming the undisputed champions of the league. The victory marks the first time Grampus have finished with a perfect record, as well as the first time in 27 years that they have been declared the league's undisputed champions.
Shooting for the national collegiate championship, the team has already advanced to the third round of the Western Japan Bowl.
The team's fourth round match against Kwansei Gakuin University, last year's champions, will be held at the Nagoya City Minato Soccer Stadium from 1:00 p.m. on Sunday, November 26.  
Related Websites
Nagoya University American Football Team:
Tokai Collegiate American Football Association: