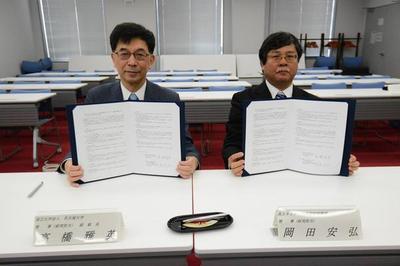 NU Trustee Takahashi and KEK Executive Director Okada
after the ceremony
The High Energy Accelerator Research Organization (KEK) and Nagoya University have signed a Memorandum of Understanding for the establishment of a new research platform at Nagoya University. The ceremony was held at the Japan Proton Accelerator Research Complex (J-PARC) in Tokai Village, Ibaraki Prefecture, on October 26, 2018.
J-PARC is operated by KEK and the Japan Atomic Energy Agency, and consists of high-intensity proton accelerator facilities for conducting cutting-edge research across wide-ranging fields, such as particle physics, nuclear physics, materials science, life sciences, and nuclear energy. This memorandum has enabled the establishment of a J-PARC branch at Nagoya University.
With the branch's establishment, researchers will be able to use J-PARC's facilities more conveniently. This is in turn expected to help further promote joint research activities, such as particle and nuclear experiments using muons and neutrons, various kinds of materials science research using quantum beams, and the joint development of large laboratory devices as well as measuring instruments for particle and nuclear experiments. The new branch is also expected to have other far-reaching effects, such as the cultivation of world-class researchers by involving graduate students, the maintenance of Japan's international research presence, and the promotion of research exchanges and globalization.
For further details, please see the following (in Japanese):
Participants in the signing ceremony from Nagoya University and KEK

 

Tour of the facility

NU Trustee Takahashi and J-PARC Director Saito putting up the new branch's plate