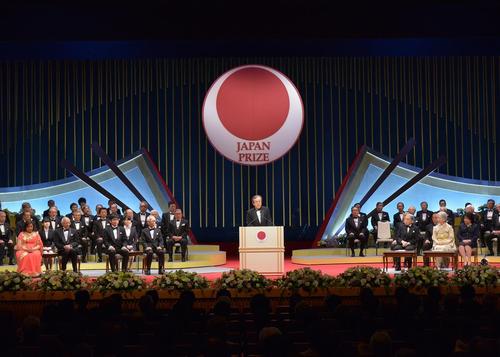 The Japan Prize Foundation announced on January 16 (Wed), 2019, that Dr. Yoshio Okamoto, Professor Emeritus at Nagoya University at the time, was selected to receive the 2019 Japan Prize.
The Japan Prize is awarded annually to commend scientists and engineers from around the world who have made original and outstanding achievements that not only contribute to the advancement of science and technology, but also promote peace and prosperity for all mankind. Each year, two prize fields are selected in view of the trends in science and technology.
Dr. Okamoto has received the 2019 Japan Prize in the field of "Materials and Production" (in the area of Physics, Chemistry, Informatics, and Engineering) for his "leading contributions to precision synthesis of helical polymers and development of practical chiral materials for separating chiral drugs," becoming the second Nagoya University Japan Prize laureate, following University Professor of Nagoya University Masatoshi Takeichi.
The award ceremony was held on April 8, 2019, with the Emperor and Empress of Japan in attendance.
2019 (35th) Japan Prize Presentation Ceremony & Banquet
2019 Japan Prize Press Conference
Japan Prize Foundation Website:
Dr. Yoshio Okamoto
(Photos provided by the Japan Prize Foundation)