On June 29, 2022, Hanoi Law University awarded an honorary doctorate to Masanori Aikyo - a Professor Emeritus of Nagoya University (currently serving as the President of Aichi Prefectural Public University Corporation).
Professor Aikyo has been involved in the academic exchange between Hanoi Law University and Nagoya University. He particularly played important role in the conclusion of an academic exchange agreement between two universities in 1999 and the establishment of the Research and Education Center for Japanese Law at the Hanoi Law University in 2007. He specializes in Vietnamese constitutional law and was involved in the Japanese government's legal assistance project to Vietnam since the initial stage in the mid-1990s. In 2015, the Vietnamese Ministry of Justice awarded him a medal in honor of his achievements. This time, Hanoi Law University awarded him an honorary doctorate.
At the ceremony, Doan Trung Kien, Rector of Hanoi Law University, presented him with an honorary doctoral degree, and Dang Hoang Oanh, Deputy Minister of Justice, his former student at Nagoya University gave a congratulatory speech.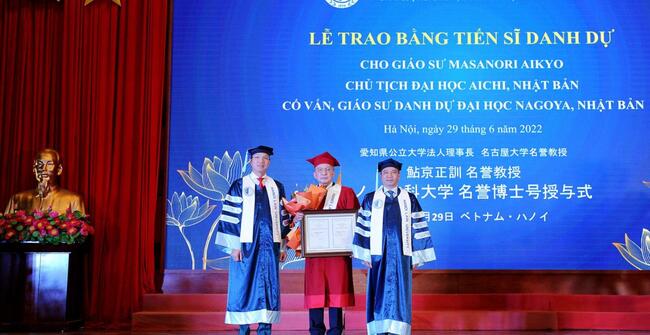 Related Website:
Graduate School of Law, Nagoya University