Professor Masaru Hori, Director of Nagoya University's Center for Low-Temperature Plasma Sciences, has been selected to receive the 2019 K-T Rie Award. This award is bestowed to a global scholar who has provided valuable contributions towards the development of and has made considerable achievements in the fields of applied plasma science and engineering in Asia and the world.
The winner of this award is selected every two years by the Asian Joint Committee for Applied Plasma Science and Engineering's (AJC-APSE) special committee for the K-T Rie Award. Professor Hori is the first Japanese person to win this award.
During the 12th Asian-European International Conference on Plasma Surface Engineering held in South Korea from September 1 to 5, 2019, he presented the award-winner's lecture and attended the award ceremony.
Related Website: Asian-European International Conference on Plasma Surface Engineering website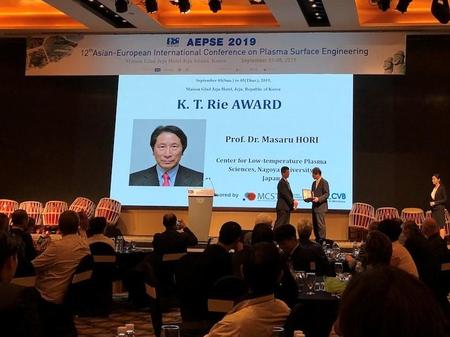 Award ceremony