Professor Hiroko Tsukamura, Nagoya University Vice President for Diversity and Gender Equality, has been awarded the Women's Challenge Support Grand Prize. The Gender Equality Bureau of the Cabinet Office of Japan awards the prize to individuals and organizations who have stepped up to provide support for women and gender equality in their organization or region, and in society.
A multiple award-winning researcher in agricultural science, Vice President Tsukamura was selected for her efforts in enhancing the visibility of women in her field and for over 20 years of support for gender equality at Nagoya University. Since 2001, in her role as head of the Center for  Gender Diversity, she has overseen initiatives such as implementing on-campus childcare facilities and increasing the number of female academic staff. In her current position, she remains committed to advancing the role of women at Nagoya University.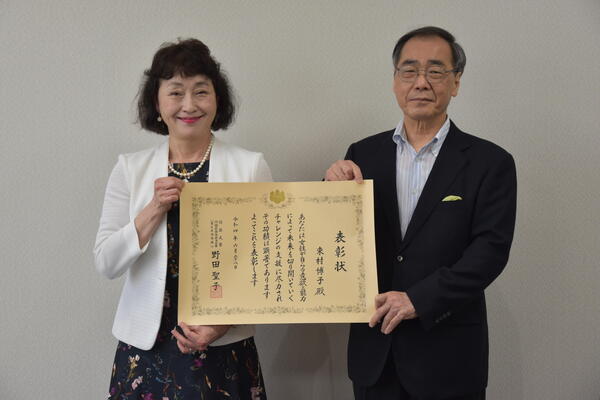 Seiichi Matsuo, Chancellor of THERS, presents the award to Vice President Tsukamura
Nagoya University understands that its future in the 21st century depends on the promotion of gender equality in education and research. The university was the first in Japan to establish a gender equality office, actively works to increase the number of female faculty and staff on its campuses and was proud to be a UN HeForShe Impact Champion.
Read more:
Nagoya University HeForShe Pamphlet