Nagoya University received the Platinum Certificate (the highest among four certificates of platinum, gold, silver, and bronze) under a new rating scheme of the Assessment System for Sustainable Campus on February 29, 2016, becoming the only Japanese university that received the Platinum Certificate. The latest evaluation was based on the fiscal 2014 and 2015 sustainable campus assessments conducted by the Campus Sustainability Network in Japan, or CAS-Net-Japan, which was established in 2013 to promote and accelerate the attainment of sustainable campus in Japan and thereby contribute to building a sustainable and eco-friendly society.
Nagoya University received this certificate by garnering 88 percentage points of the overall rating in 170 evaluation criteria. The high evaluation was based on the University's sustainability-related efforts and achievements which include: research achievements contributing to energy conservation, such as the invention of blue light-emitting diodes (LEDs) by Emeritus Prof. Isamu Akasaki and Institute of Materials and Systems for Sustainability Prof. Hiroshi Amano; the university-wide sustainability promotion efforts such as energy conservation and waste management through the creation of environmental policies such as "NU MIRAI 2020," the "Campus Master Plan," and environmental reports; activities in collaboration with external entities through the University's Energy Management workshop and Facility Management workshop; community service activities through the Aichi Science Communication Network, environmental education seminars, and open lectures; flea markets for secondhand goods and flower planting activities at Toyoda Auditorium, both led by the University's environment society; and regional disaster prevention activities conducted by the Disaster Mitigation Research Center.
This certificate is valid for three years, but instead of being satisfied with this evaluation, Nagoya University will continue its efforts towards progress and make its campus more sustainable.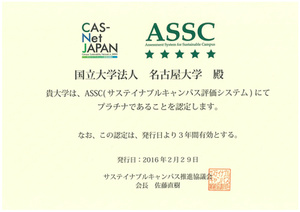 ASSC Platinum Certificate