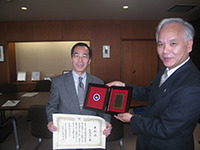 GraduateSchool of Medicine Professor and Head of the UniversityHospital, Professor Seiichi Matsuo, was honored by the Japan Society for the Promotion of Science as a model screener for his work in screening applications for the FY2009 applications for Scientific Research Grants.
Scientific Research Grants are intended to promote research, and efforts are therefore made to screen applicants adequately and fairly. Since the preliminary screenings form the basis of the overall screening, efforts to improve the quality of screening are invaluable. For this reason, the JSPS Research Center for Science Systems has been evaluating preliminary screening results since FY2008 in order to honor screeners working on applications as model screeners. Of the approximately 2,200 screeners in FY2009, 20, including, Professor Seiichi Matsuo, were selected for this honor.
NagoyaUniversity commends the work of researchers who participate in screenings for competitive funding, and these efforts are expected to improve not only the quality of peer reviews, but also the overall quality of the Japanese research grant system.