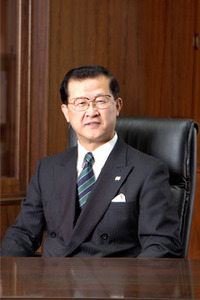 President Hirano was awarded a Distinguished Life Membership from the American Ceramic Society, the world's leading academic society for ceramics research. This award is the highest honor granted by the 108-year old body. President Hira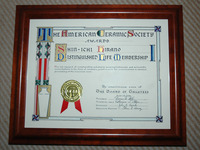 no attended an awards ceremony held on Monday, October 16th at the Hilton Cincinnati Netherland Plaza Hotel in Cincinnati in Ohio.
President Hirano is the youngest ever recipient of a Distinguished Life Membership, a prestigious award often called the Nobel Prize of Ceramics. President Hirano was awarded this honor for his outstanding academic achievements in the field of ceramics, in particular, his contribution to chemical processing at the molecular level. He has also received international acclaim as the first person to develop a hybrid material from nano-ceramic crystals and organic substances.
The president commented on his award by saying "I am honored that my ceramics research has been recognized by the international community. It was enjoyable to step back from my administrative duties as president and become involved in research for the first time in a long time".
President Hirano is a member of the International Academy of Ceramics, an American Ceramic Society Fellow, and an honorary member of the Japan Association for Crystal Growth. His long list of awards include the Richard M. Fulrath Award, the Chemical Society of Japan Award, the Ceramic Society of Japan Award, and the Japan Fine Ceramics Association International Prize. He has also served as president of the International Ceramic Federation, president of the Asia Oceania Ceramic Federation and president of the Ceramic Society of Japan.