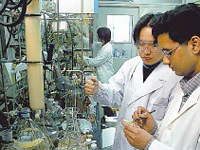 Undergraduate Departments: 1.Mathematics 2.Physics 3.Chemistry 4.Biological Science 5.Earth and Planetary Sciences
Graduate Departments: 1.Particle and Astrophysical Science 2.Material Science 3.Biological Science
Natural sciences are fundamental disciplines to reveal the laws of nature and to create the future of human civilization. The Graduate School of Science/ School of Science at Nagoya University is recognized as one of the top science schools in the world. The School has an illustrious history, providing national leadership in scientific education and research. The School's strong record of achievement is based on its pioneering advances in research, such as stablishment of space astronomy, discovery of DNA segmentation, development of molecular catalysis, etc. and its success in incorporating these advances into teaching and research programs.
The School offers an educational and research experience in the sciences that is rich with challenges and opportunities for undergraduate and graduate students. The undergraduate programs aim to provide rigorous education in the fundamental areas of scientific knowledge and experimentation. The program is sufficiently flexible in its electives to provide an excellent preparation for careers in many different areas of natural and mathematical sciences, may it be in Academia or Industry. Graduate students are actively engaged in research at the forefront of science, in collaboration with faculty who are acknowledged leaders in their respective fields, as well as in learning under both formal and informal settings with a broad spectrum of Japanese and international colleagues, including faculty members, postdoctoral fellows, research scientists, and graduate student peers.