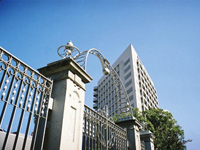 The University Hospital, established in 1871, is one of the leading medical institutions in Japan, providing the far advanced yet effectual medical services as a hub institution of 124 affiliated hospitals.
Our hospital has 29 clinical departments with 31 supporting sections where more than 2,000 outpatients visit every day for their treatment. A ward with 1,035 beds has opened in 1995. Thereafter, a new clinical laboratory and examination center has started its service in May 2006.In our hospital, an electronic medical chart system has been introduced in 2003 so that it improved our healthcare services greatly by establishing IT network.
In January 2007, our hospital was certified as a designated center hospital to offer best medical service and to improve oncology education. The outpatient chemotherapy center, a facility with 20 personal reclining chairs and beds to provide excellent, well-qualified chemotherapy, started its service in 2007. The principle of our hospital management is to offer the best healthcare services to the patients through the development of leading-edge technologies in the area of medical care.