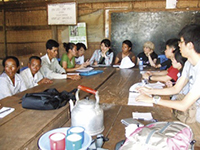 Graduate Department: International Development and Cooperation(DIDC)

The central mission of the Graduate School of International Development (GSID) is to contribute to the exploration of knowledge and development of human resources essential for selfreliant development of Third World nations and international understanding, in which indigenous values and lifestyles are respected. The GSID, being composed of Master's program and Doctoral program, is the fi rst graduate school of this kind in Japan.
The GSID consists of three departments and covers wide research areas. Besides the Doctoral program for front-line research, the Master's program has eight professional education programs in it: 1)Economic Development Policy and Management, 2)Rural and Regional Development Management, 3)Education and Human Resource Development, 4)Governance and Law, 5)Peacebuilding, 6)Social Development and Culture, 7)Human Migration and Cross- Cultural Understanding, and 8)Language Education and Linguistic Information.
New students are encouraged to participate in our Overseas Fieldwork program in order to gain first hand knowledge on a wide range of development related issues. The GSID pursues the development of human resources active in international society by focusing on practical and interdisciplinary education.