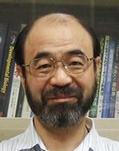 Professor Yoichi Matsuda at Nagoya University Graduate School of Bioagricultural Sciences received a prize in the natural sciences category of the 72nd Mainichi Publishing Culture Award, announced November 3 (Sat), 2018 by the Mainichi Newspapers for his book, The Evolutionary History of Sex -What is Happening in Human Chromosomes Now? (Shinchosha Publishing Co.).
The Mainichi Publishing Culture Award was established in 1947 to honor authors and publishing companies for outstanding publications, and is made up of five categories: natural sciences, arts and literature, humanities and social sciences, planning (complete collection, lecture, dictionary, encyclopedia, book review, etc.), and a honorable mention. This year's award-winning publications were selected from books whose first editions were issued between September 1, 2017 and August 20, 2018, as well as from collected works compiled during the same period.
The award ceremony will be held at a hotel in Tokyo on November 29 (Thu), 2018.
Mainichi Newspapers Website (in Japanese)