Takashi Yoshimura, Professor of the Institute of Transformative Bio-Molecules (ITbM) and the Graduate School of Bioagricultural Sciences at Nagoya University (Visiting Professor of the National Institute for Basic Biology at the National Institutes of Natural Sciences), has been presented the 2015 Van Meter Award by the American Thyroid Association (ATA).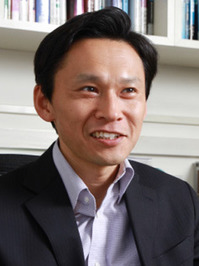 The Van Meter Award, which was established in 1930, is presented to a young clinical scientist who has made outstanding contributions to research on the thyroid gland and hormones.
Prof. Yoshimura was recognized for his remarkable contributions to thyroid research related to a series of discoveries made in birds, mammals, and fish on elucidating the role of thyroid hormones in seasonal reproduction.
He is the third Japanese scientist to receive this award and also the first winner whose research originated from Japan. Moreover, he is the first recipient of the award whose scientific specialty is not in thyroid research.
"When I first started research, I had never imagined that I would be carrying out research on thyroid hormones. As we were unraveling the mystery of seasonal sensing in animals, we found that the thyroid hormone and the thyroid-stimulating hormone play an important role," Prof. Yoshimura said. "Through further studies, I wish to continue to uncover the sophisticated survival strategies."
The award ceremony and the award lecture were held at the 85th Annual Meeting of the ATA in Florida, the United States, in October 2015.
Related Websites
American Thyroid Association:
Institute of Transformative Bio-Molecules, Nagoya University: