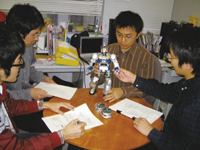 Undergraduate Departments: 1.Natural Science Informatics 2.Social and Human Science Informatics
Human society is now entering the era of information. In the midst of this historical development, it is necessary for our society to take a qualitative leap in order to harvest even greater cultural benefits from this change. To do so we must recognize our culture legacy using "information" as an axis to enrich our intellectual creativity.
The goal of our school is not only to teach the technique of information processing but to endow our students with real information literacy. A person with real information literacy can face the challenge of a future information society with interest and insight, and will be able to discern and create valuable information.
Our school investigates a wide variety of informational phenomena in the study of natural and social systems. Therefore, the School now comprises two departments - the Department of Natural Science Informatics and the Department of Social and Human Science Informatics.