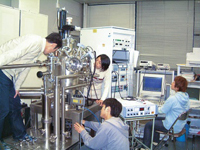 Undergraduate Departments: 1.Chemical and Biological Engineering 2.Physical Science and Engineering 3.Electrical and Electronic Engineering and Information Engineering 4.Mechanical and Aerospace Engineering 5.Civil Engineering and Architecture
Graduate Departments: 1.Applied Chemistry, Chemical Engineering and Biotechnology 2.Materials, Physics and Energy Engineering 3.Electrical Engineering and Computer Science 4.Mechanical Science and Engineering 5.Aerospace Engineering 6.Civil Engineering 7.Crystalline Materials Science 8.Energy Engineering and Science 9.Quantum Engineering 10.Micro-Nano Systems Engineering 11.Molecular Design and Engineering 12.Computational Science and Engineering
School of Engineering consists of five traditional departments with thirteen courses and Graduate School of Engineering has a unique initiative effectively combining six interdisciplinary departments with six traditional departments, to nurture basic and applied research in emerging technologies and to provide society with talented young people who become leaders in engineering, scientific research and high-technology international business. The traditional departments provide the undergraduate teaching functions and also offer graduate teaching and research in core engineering disciplines. The interdisciplinary departments, on the other hand, are devoted to graduate education and research. Undergraduate students enter one of five traditional department groups and study engineering courses that are common to all this set of engineering disciplines.
The Graduate School of Engineering emphasizes the importance of interdisciplinary graduate education to meet the increasing demands of a variety of advanced industrial technologies. Interdisciplinary education and research are critical elements in meeting the challenges of rapidly growing advanced technologies and, at the same time, they must be built on a solid foundation in traditional engineering disciplines. This structure encourages and reinforces the interaction between the traditional disciplines that is essential for successful interdisciplinary education and research.